Whitson and Fischer's walk in space marks the 200th spacewalk on the International Space Station. This is also the 9th time Whitson has taken part in a spacewalk, extending her record as the American woman with the most spacewalks in history.
The last Friday spacewalk marks Fischer's first walk in space, and he is... enthusiastic.
"Oh my gosh, this is beautiful," Fischer said as he stepped out into space for the first time, saying his view is like "an enormous fondu pot bubbling over with piping hot awesome-sauce."
While the view from above the planet is probably pretty amazing, it wasn't exactly smooth sailing for Fischer and Whitson.
An issue with some gear inside the airlock ahead of the spacewalk forced mission managers to delay the start time and shorten the walk in space.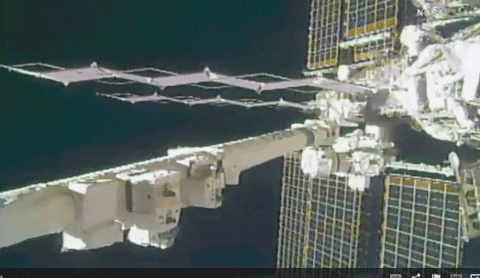 When compared with the relative safety of living and working inside the Space Station, floating around in space with only a tether to keep you firmly attached to your home above Earth isn't exactly a super safe position.
"An enormous fondu pot bubbling over with piping-hot awesome sauce"
In light of that, it's pretty amazing that there haven't been any astronaut or cosmonaut deaths or serious injuries during spacewalks since they began at the station in 1998.
That safety record speaks to the fact that the station is a successful and truly international experiment.
Even during times of extreme geopolitical stress, when U.S.-Russia relations are terrible (like now for example), the Space Station is the one place where we're always speaking to one another. Lives literally hang in the balance.