Photo: Elon Musk and Jay Weatherill attend a press conference at the Adelaide Oval in Adelaide, South Australia, Australia, on July 7, 2017. Photographer: Ben Macmahon/EPA
Nowadays it's a testing ground for the opposition Labor party to show how it could govern if it wins the next national election. South Australian Premier Jay Weatherill has initiated a range of offbeat policies to stimulate an economy devastated by the demise of traditional manufacturing industries, from opening a nuclear waste dump to raising taxes on big banks to tasking Elon Musk with installing the world's largest renewable-energy battery.
Depending where one sits politically, Weatherill is either trailblazing a path to the new economy or desperately throwing mud at a wall to see what sticks. His leftist Labor government oversees one of the nation's slowest-growing states saddled with Australia's highest unemployment. At the same time, it's now the top-ranked state for business investment.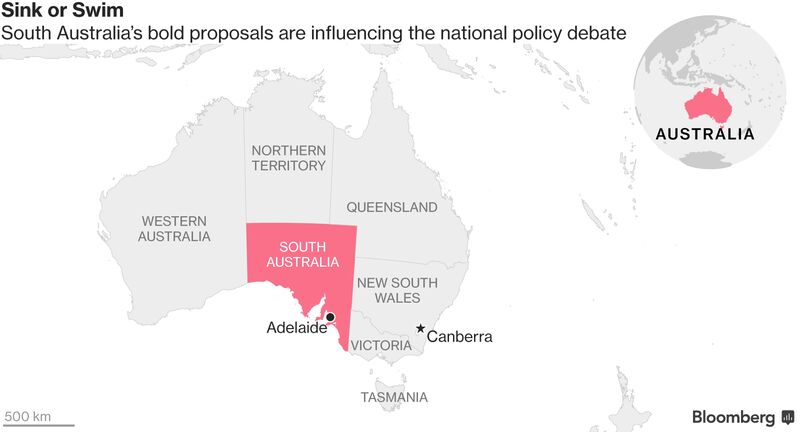 Watching closely is national Labor leader Bill Shorten, who only lost last year's federal election by one seat. He's on target to seize power by 2019 from Prime Minister Malcolm Turnbull's center-right government, which is facing voter discontent as lower growth and stagnant wages stoke fears that living conditions are falling. A Newspoll survey published July 24 showed Labor ahead of Turnbull's Liberal-National coalition by 6 percentage points.
"Shorten is a populist, promoting a more left-wing agenda than any other federal Labor leader in decades," said Haydon Manning, a political analyst at Flinders University in Adelaide. "He'll be looking very closely at what's going on in South Australia."
The key test will come when South Australia heads to the polls next March. Weatherill's Labor government is running neck and neck with the Liberal opposition, according to a Galaxy survey conducted in late June. Labor has been in power in the state for 15 years, and won 11 of the past 14 elections.
Some of Shorten's policies mirror those in the state. He wants to commit the nation to a 50 percent renewable energy target by 2030, a goal reached by South Australia this year. He also aims to increase the top personal tax rate to 49.5 percent for workers earning more than A$180,000 ($143,000) a year, and he's supported Weatherill's move to put a levy on major banks.
"It is time for the South Australia economy to get a bit of backup from Mr. Turnbull," Shorten, 50, told reporters in Adelaide on July 12.
Turnbull, a former Goldman Sachs banker, has been vocal in his disdain for Weatherill's government. He called the state a "socialist paradise" in February for its push to ramp up renewables, a policy which the prime minister blamed for contributing to blackouts in the state.
Still, South Australia is "showing promising signs" despite its recent economic woes, the Commonwealth Bank of Australia said in a report on Monday. Investment this year is rising faster than other states and ratings companies have a positive view.
"We're the next story coming through" in terms of business investment, Martin Hamilton-Smith, South Australia's minister for investment and trade, said in a July 24 interview in Singapore.
Like Shorten, Weatherill has his roots in the Australian Workers' Union. Since he took power in 2011, the state's economy has struggled. The planned closure of General Motors' car-making plant near Adelaide in October -- the nation's last remaining -- further hurts the employment outlook.
"Weatherill has for a long time been a believer in a strong role for government, but he's failed to keep the input costs for companies low," said Michael O'Neil, associate professor of economics at the University of Adelaide. "Protecting businesses and workers through subsidies isn't feasible in the long term. I would caution against Shorten from following the South Australian pathway."
South Australia has long been known for its progressive policies. In Adelaide, the state capital, an exhibition promotes achievements including the movements to allow all men -- and subsequently all women -- the right to vote in the 1800s. It also displays a pair of tight pink shorts the socially progressive state premier Don Dunstan wore to parliament in 1972.
Tesla Inc. founder Musk last month lauded Weatherill for his support for renewable energy. The politician also made waves for his plan to implement a new A$370 million levy on the nation's biggest banks -- the first state to do so. That move may be challenged in the high court by the lenders.
Market realities will likely force the Labor party to tone down some more extreme policies if Labor were to take power nationally, said Shane Oliver, head of investment strategy at AMP Capital Investors Ltd. in Sydney. Turnbull is already struggling to pass measures needed to rein in the budget deficit and maintain the nation's cherished AAA credit rating.
"I like the inventiveness of South Australia," Oliver said. "It's always been prepared to be a bit different."
— With assistance by Hannah Dormido